Ensuring Safer

Spaces For All
CLEARED4® is the most trusted cloud-based health verification platform in the industry that makes monitoring and managing covid-related safety and compliance both easy and cost effective.
Be Up And Running Immediately
We've Issued 10 MILLION
Covid Safety Passes
Currently issuing millions of covid health passes in the US per month, CLEARED4 is the recognized leader in ensuring that your fans, friends, families and facilities are safe to return regardless of the requirements and that your company is safe via compliance and legal liability.
​
From offices and visitors, to students and sports fans, our CLEARED4 Platform can be tailored to your needs to ensure compliance with constantly changing regulations and industry best practice.
Featured Clients and Partners
Our growing stable of clients includes some of the most well-known names in the world including Madison Square Garden, Netflix, AAA, Live Nation, Sun Chemical and AT&T Stadium.
We have enabled a diverse range of companies make arrangements to re-open safely and efficiently.
Let us show you what CLEARED4 can do for you.
CLEARED4 combines five critical components to provide a comprehensive health platform that helps clients create and maintain safe spaces during pandemics, flu seasons, and other disease outbreaks.
Watch Our Product Overview Video
Ready To Open Up Your Space?
Contact Us Today!
Dashboard Features
Add all staff, students or visitors into our secure HIPAA platform
​
CDC-approved symptom monitor​​ing questions securely messaged to your users with daily reminders
​
Your symptom-free users are provided secure mobile passes to come back to work
​
Anyone with Covid-19 symptoms are automatically quarantined


Contract Trace reports are accessible to speed up documentation and follow-up
Frictionless Symptom Monitoring
& Secure Access Passes
Easy to use on any device, with no app download, and no passwords to remember


Sends secure daily reminder messages​ via SMS or email
​
Instant Covid-19 symptom status results with dynamic travel quarantine guidance


Secure Access Passes are issued to healthy users and guidance provided to those with symptoms
​
Customizable design and messaging to meet your operational needs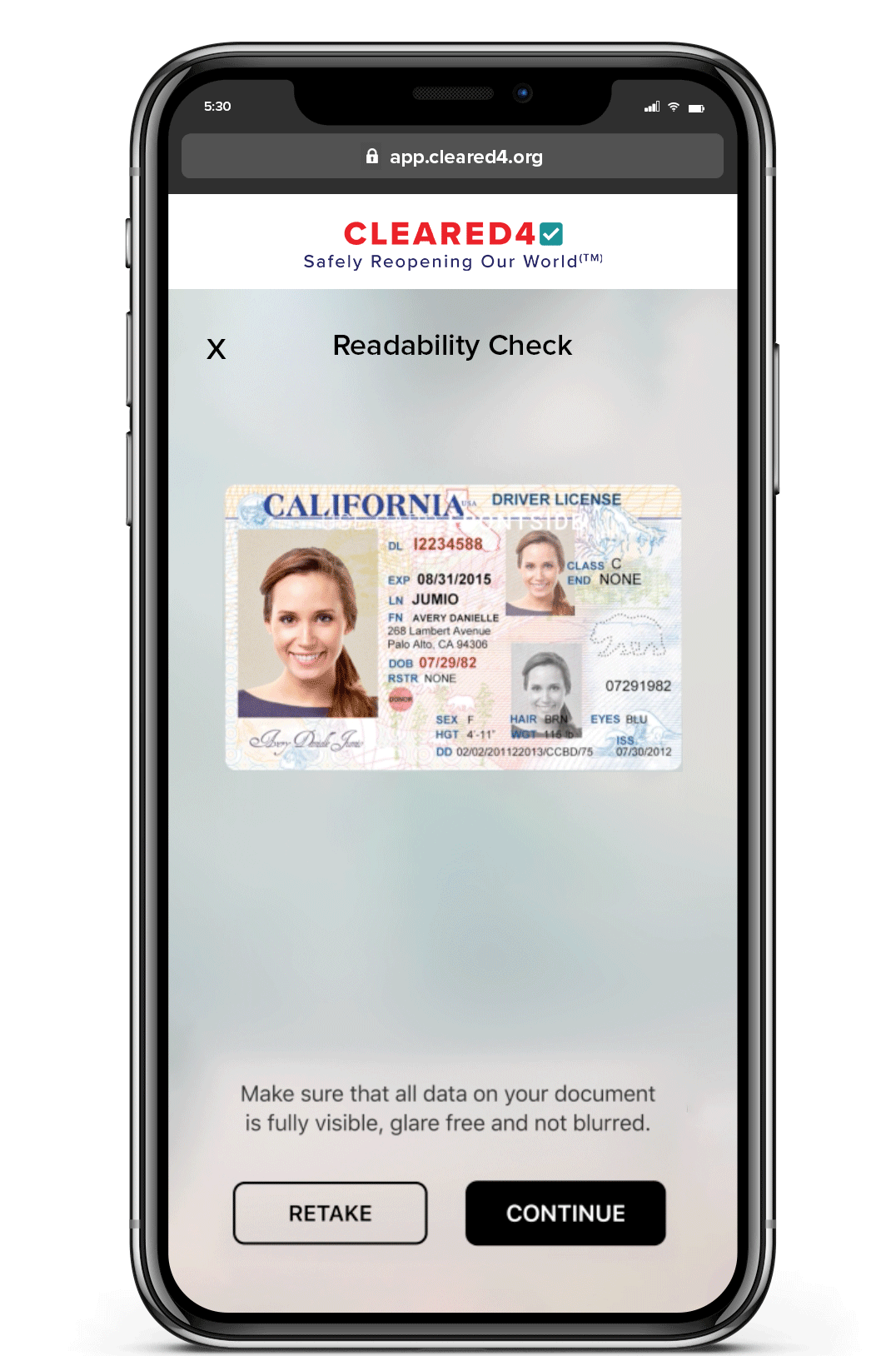 Kiosk Integration with Touchsource
Contact-less temperature scanning kiosks provide an additional layer of safety


Our kiosk integrations enables organizations to ensure strict access control​
​
Authorized users can scan their mobile passes to gain access to the building
​
All activity is tracked for seamless contact trace reporting
Covid-19 Test Integration
The CLEARED4 Platform is the first return-to-work platform with ubiquitous access to real-time test results from the top labs and hospitals. All test results for your teams can be stored and crossed referenced with access protocols and contact trace documentation requirements.
​
In addition, for employers who need their staff tested, either at the office, or at home, CLEARED4 offers a range of cost-effective, and fast-turnaround testing products through its partners.
​​
Proof of Vaccination Protocols are Crucial for Ensuring the Safety of Your Employees, Vendors, and Guests.
CLEARED4 can help ensure that you meet local and state requirements for your visitors and employees, and allow you to install vaccination only access or vaccination only zones in your building or at your event.
​
​
CLEARED4

Business Advantages
Plans are available for small, medium and large scale businesses.
Pricing starts at $3 per month per employee.
Set-up Fee:

N/A



Platform Fee

:


$350 p/m





Included Admins:


5



Additional Admins

:
$50 p/m



Included Users:


10



Additional Users:


*$3

p/m





*Messaging costs not included
Set-up Fee:

N/A





Platform Fee:




$1,500 p/m





Included Admins:


10



Additional Admins:


$50 p/m



Included Users:


100

Additional Users:
*$2

p/m





*Messaging costs not included
Set-up Fee:




TBD





Platform Fee

:
Contact Us For
Custom Pricing



Included Admins:




Unlimited





Included Users:




1000





Additional Users:


*$1

p/m





*Messaging costs not included
Set-up Fee:




TBD





Platform Fee:


Contact Us For
NFP Special Pricing



Included Admins:




10





Active Staff & Students: *

$0.50 p/m





*Messaging costs not included