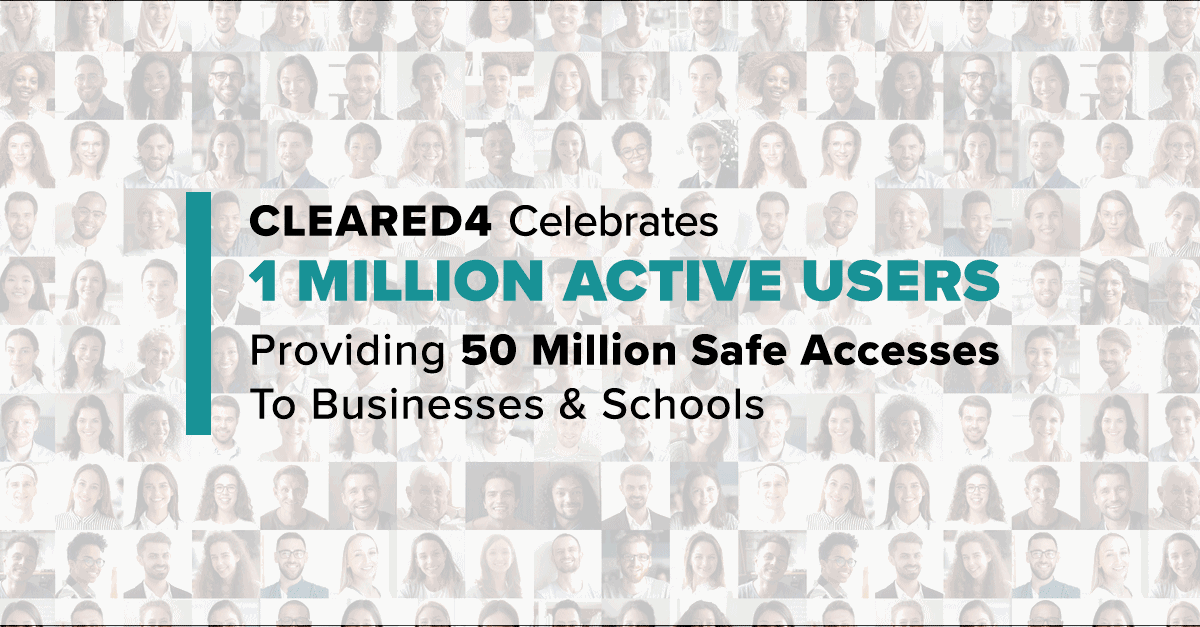 CLEARED4's health platform ensures compliance with President Biden's OSHA COVID-19 vaccine mandate.
CLEARED4, the nation's largest and most trusted HIPAA-compliant health verification platform, announced it has more than 1 million active users and is issuing millions of health and safe entry passes to companies, schools, events and concert tours across the U.S. CLEARED4 provides organizations with vaccine verification, testing integration, symptom monitoring, contact tracing, building access control and privacy-first reporting that complies with government regulations.
Companies with over 100 employees, like Netflix and T-Mobile are using CLEARED4. They are compliant with President Biden's vaccine mandate that will be enforced by OSHA. CLEARED4 is a turnkey platform that is seamlessly integrated with IT infrastructure, or as a frictionless, standalone experience. The platform offers a comprehensive visual dashboard with live data for administrative reporting and privacy-compliant documentation.
"CLEARED4 is working with hundreds of organizations to aid in the reopening of businesses, schools and live events," said Ashley Heather, co-founder and president, CLEARED4. There are still 66 million people that work in environments with more than 100 employees that are not compliant. CLEARED4 ensures OSHA vaccine mandates are met and that this segment of the population is provided safe entry."
Beyond being compliant with government regulations, CLEARED4's flexible solution enables companies to pick any combination of COVID-19 symptom checking, test results and vaccination data to trigger access to an entire location such as an office, venue or a classroom or a specific zone within that location, using any form of unique identifier, including custom QR codes, government IDs, membership cards, building access cards, wearables and facial recognition.
What is the mandate and who does it impact?
The Department of Labor's Occupational Safety and Health Administration (OSHA) is developing a rule that will require all employers with 100 or more employees to ensure their workforce is fully vaccinated or require any workers who remain unvaccinated to produce a negative test result on at least a weekly basis before coming to work. OSHA will issue an Emergency Temporary Standard (ETS) to implement this requirement. This requirement will impact over 80 million workers in private sector businesses with 100+ employees.
The President's plan also calls on federal employees, most healthcare workers, entertainment venues like sports arenas, large concert halls, and other venues where large groups of people gather to require that their patrons be vaccinated or show a negative test for entry.
CLEARED4 is helping organizations comply quickly and easily
CLEARED4's health validation platform offers vaccine management, integration with COVID testing labs and/or the ability to upload weekly test results for users, contact tracing capability, weekly symptom monitoring, and access control, a HIPAA privacy-compliant dashboard that reduces the administrative burden - all in one easy-to-use software service.