Advanced COVID-19 Health Monitoring
Due to CDC guidelines, all offices, schools, airlines, venues that have employees, students or visitors needs to ensure anyone who enters the premises is free from COVID-19 symptoms.
​
Our Solution
CLEARED4's solution provides the most comprehensive health screening questionnaires that are constantly updated with the latest CDC, US state and international quarantine guidelines.
​
No need for your internal HR, legal and compliance teams to have to monitor all the changes, CLEARED4's tool is always up to date, keeping you 100% compliant.
No app required, no passwords to forget, health survey works on any device

Multiple survey options for staff, students and visitors

Survey can be branded and customized to meet your needs

Updated in realtime to ensure 100% compliance with any CDC, USA/International quarantine changes

Scheduled reminders and notifications can be sent via SMS or email to your users

Options for daily, weekly or as-needed reminders and notifications

Visitors can complete survey on their devices in-advance or at a kiosk on premises upon arrival

Users can be prompted to complete the full survey everyday, or to answer a single question for repeat users's fast access.
No internal resources are needed to edit or update the survey's and stay compliant

Ensures client is 100% compliant to all Covid-19 related regulations

Automated reminders help drive 100% adoption of the health survey for end users

100% of users can access the survey via their phone, computer or on-site kiosk

Outcomes and messaging can be customized to match clients needs
End User Health Validation Options
Contact Info

DOB/ZIP/ID

Location

Custom data
Covid Symptoms

Covid Exposure

Travel Quarantine
Advance PCR in "X' days

95% US Lab coverage
Vax Card Upload

Health Record Validation (EHR)
Scan this 2D code with your phone to get started.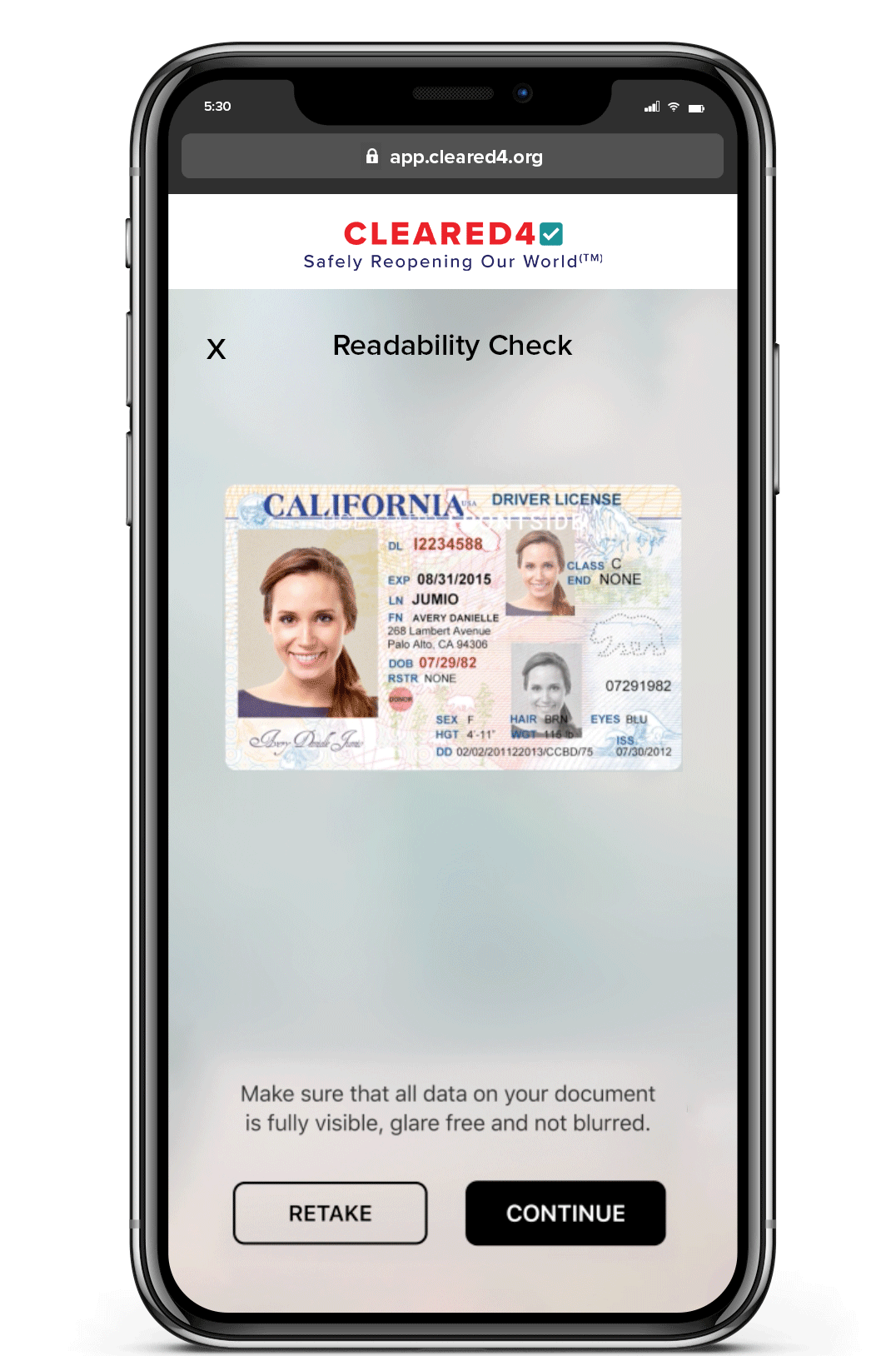 Frictionless Symptom Monitoring & Secure Access Passes for Your Employees
The CLEARED4 process is easy for your employees to use on any device, with no app download, and no passwords to remember.
CLEARED4

HIPAA Compliant Dashboard
The CLEARED4 dashboard eliminates the need for paper based documentation, and any manual processes. From health monitoring and temperature checking, to building access, contact tracing and integrated testing, CLEARED4 covers everything an organization needs to do to bring their employees back safely.
Compliance Documentation

Covid Symptom Monitoring

Access Passes/Control

Resource Management

Staff Communication

Contact Trace Reporting

Covid-19 Surveillance Testing

Full Reporting Suite

HIPAA / GDPR Compliant
INDUSTRY: FINANCIAL SERVICES
See how a financial service firm created a scalable return workflow while giving staff peace of mind about their safety and a complete audit trail for liability coverage.